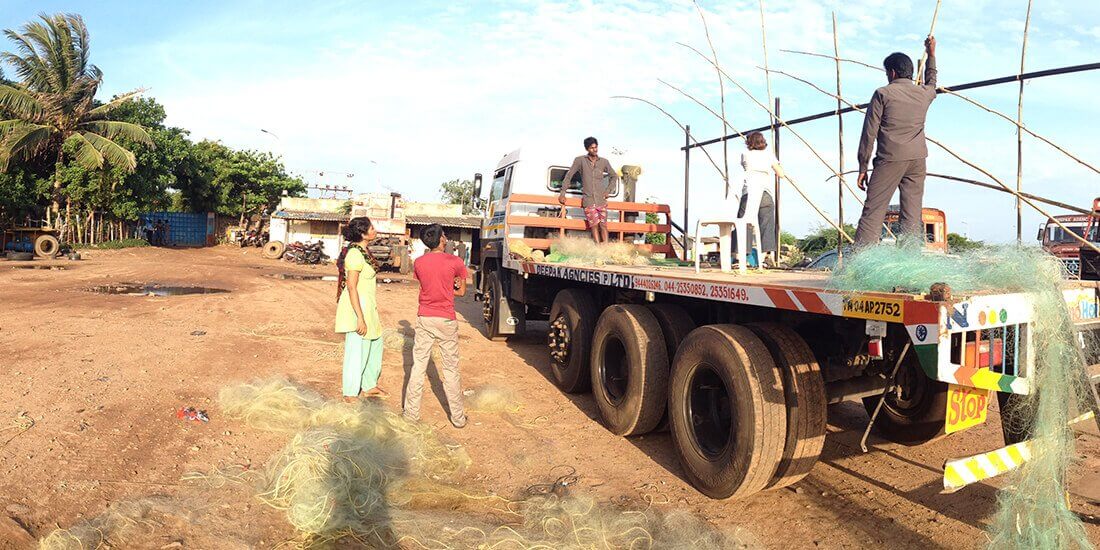 A lorry (truck) becomes the stage of a performance telling the stories of marginalized people using traditional performing art forms. Through participatory performances we raise awareness and initiate discussion about issues in the community.
Every Lorry Lolakku project has a team of artists from Katradi engaging with a community using dance, theater, photography and installation art to create the performance alongside them. We celebrate their spaces, record their experiences and build a unique performance on a truck that then travels to different communities to share their stories.
Lorry Lolakku 2016:
The Real Yama
In October 2016 during the Joy of Giving week (Daan Utsav), Katradi partnered with Arunodhaya Centre for Street and Working Children to create a performance with the boys from their shelter home in Korukkupet, Chennai.
Most of the boys are rag-pickers in the kilometer-long Korukkupet garbage dump and regularly use local drugs. Prolonged drug use by the boys and their parents has impacted the health of some, impaired speech of others, and above all created a violent atmosphere where they live.
The performance opened up strong discussions on how the boys see themselves, what they need to learn and what they want for their future. During our sessions the boys realized they wanted to talk about substance abuse - something which has affected them deeply. They created a performance out of their experiences and stories using Kattaikkuttu as the theatrical medium. The sets were built on a small lorry and the boys performed with a team of Kattaikkuttu artists through Korukkupet and Ennore.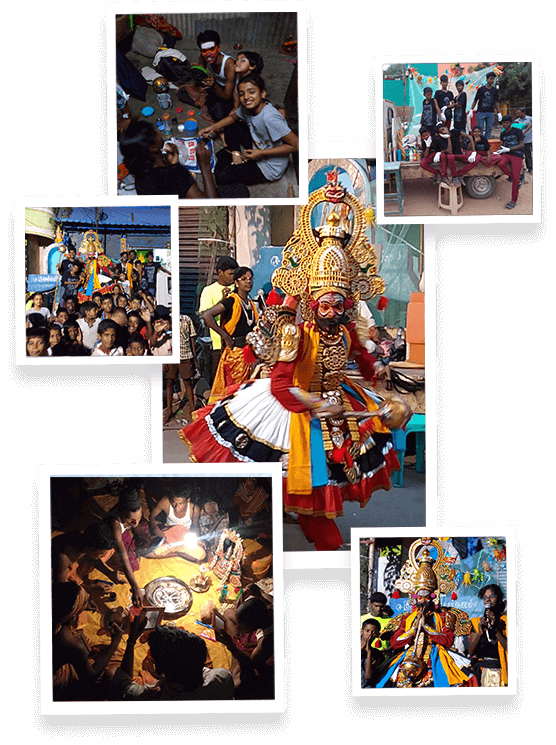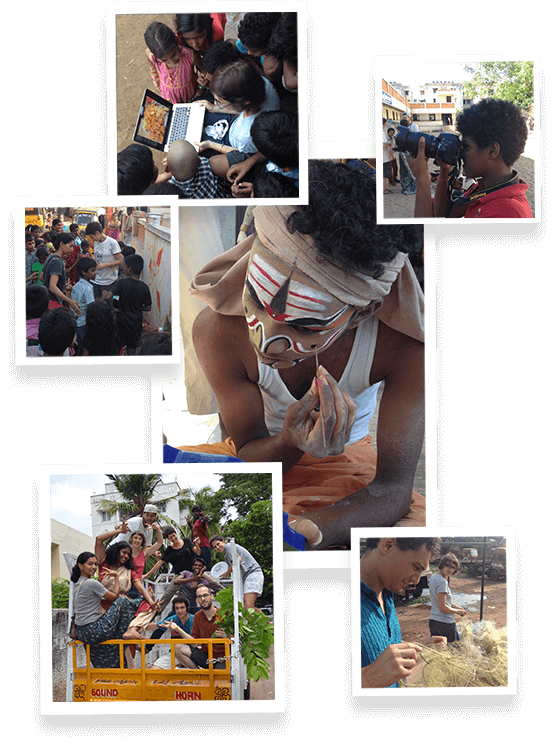 Lorry Lolakku 2015:
Micro-Histories of Madras
In August 2015, during the celebration of Madras Week, Katradi showcased the stories of "kuppams", fisher villages, along the coast line of Chennai (previously known as Madras). These villages existed even before Madras did, yet today the word "kuppam" is associated with poverty and violence. A team of six artists from Les Poussières, a French theater group, joined Katradi to work with these communities using Kattaikkuttu, Bharatanatyam, photography, graffiti art, installation art and innovative sound technology.
Using their oral histories, the first Lorry Lolakku performance showcased different stories of the kuppams, creating a mosaic of fascinating realities that form part of Madras today. During Madras Week (August 17-24), a truck equipped to transform itself into a performative space, traveled from community to community engaging with the locals, creating live street performances, photo projections and graffiti painting.